I am so lucky to have met many amazing bloggers over the past 5 years.  I have also managed to survive my first week as a "Working Mom". Yes, I have been a Mom for the past 20 years and I have been so fortunate to have never had a job outside of our home.  Last week was one of the hardest weeks of my life. Juggling a new job, the kids, the homework, the dishes and laundry, whoa.  I know I can do it, but I need to learn a whole new set of skills now.  Kudos to all your working Moms who are laughing at me and my dirty dishes that piled up all week long.  I did manage to keep up with my one load a day laundry routine. Go me!  Unfortunately since I will barely have time over the next 6 months to accomplish much I will be posting on my blog less often.  But, my incredibly wonderful blogging buddies will be holding me up.  I am soliciting some incredibly talented bloggers to guest post for me.  I will still be posting some of my recipes and stories (some delicious new goodies are almost ready to be shared with you soon).  Today I am happy to have one of my first fashion posts, Winter Trends you will love, all under $50! This post was created by a wonderful Virginia Blogger, Danielle Larkins, from Typed Blog.
Despite the unusually warm DC temperatures that have me questioning our planet's long term prospects, it's winter. I may be sweating in my leather pants, faux fur, and beanie, but hey, I feel great. And I feel even greater knowing I spent 50 dollars or less on each item. If you're a bargain shopper like me, then here are some fashion and home winter trends under $50 that will add some extra style to your wardrobe and home!
Faux Fur
Faux fur is everywhere, and I love it. Are you worried you'll end up looking like Chewbacca? So did I until I tried them on. They're warm, comfortable, versatile, and can step-up a drab outfit.  Here are two sleeveless faux fur vests. This black one from Sans Souci is $34.
And this Brown Romwe Faux Fur Vest is only $25.
Blankets and Tree Skirt
Like I already stated, faux fur is EVERYWHERE. We bought a faux fur tree skirt, and I love it so much that I snuggled up with it as if it were a blanket, as you can see below:
So if you love this look, but want to get a real blanket, then check out Overstock's Baldwin Ruched Faux Fur Throw for $31.99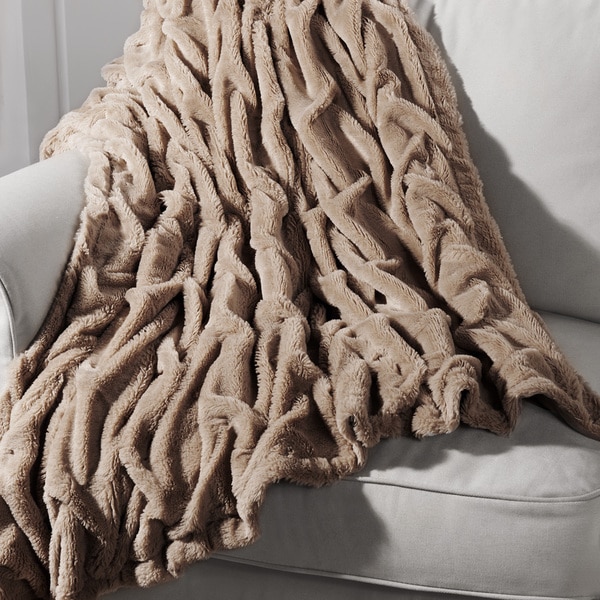 Faux Leather Pants
Leather's been a trend for a while, so I was a little behind when I bought these Jessica Simpson Front Panel Faux Leather Leggings a couple of months ago. I found them at Nordstrom Rack. They're currently being sold on Amazon for $24. They're super comfy and provide a sexy edge to your look.
For an all-leather pant, you can find these faux leather Jessica Simpson pants for only $15. I love Simpson's style!
Winter Boots
For me, less is more. I'm a simpleton, which is why I'm surprised how much I love a little fringe on this Meant 2 Be Faux Suede Fringe bootie. The fringe adds some character, and there are a few colors to choose from. You can find them at Go Jane for $27.37.
Over-the-Knee
I love wearing my suede over-the-knee boots with my black faux leather Jessica Simpson leggings or skinny jeans. I can rarely handle heels anymore, so flats are perfect for my mommy life. These Rampage boots can be found at Macy's for $36.22.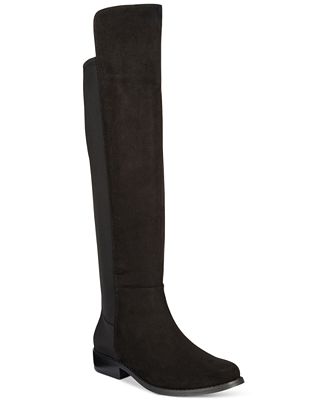 Joggers
These are my updated version of yoga pants. Yay for stretchy pants! Here's a casual, plus-size jogger from Forever 21 for $17.90.
For a more formal look, here are some printed joggers, also from Forever 21, for only $19.90.
Vintage
Vintage isn't exactly this year's "winter trend," but it's my forever-trend. I love finding old pieces on Etsy that will add some style to a room. I found some vintage maps of my family's hometowns that are from the early 20th century. They were very affordable. They cost between $5-$20 each. The frames are from Michael's and each was under $50.
We also used Etsy when we needed to hang towels in our master bathroom. These are Soviet Union hooks from the early 20th century. I just love the character and detail vintage pieces can provide a home! They were shipped to me from a man in Poland. I think the pair cost me about $25.
This wraps up my recommendations for some affordable and stylish winter pieces for 2016. As you can see, whether it's for yourself or your home, style doesn't require a fortune to make you feel like a million bucks. Happy New Year!
Danielle Larkins is a mom and lifestyle blogger at Typed Blog. She loves to write about her thoughts on life as a mom and wife, as well as recipes and DIYs.